A Complete Guide to Microsoft SharePoint Data Retention
27 Oct 2021
8 min read
SharePoint is a web-based collaboration and document management solution with more than 200 million monthly active users, including 85% of Fortune 500 companies (Source: Microsoft). SharePoint is primarily used as a data storage location for other Microsoft 365 apps as well as to communicate information across the organization. Widespread adoption of SharePoint by businesses also means that there is an increased risk of data loss due to a wide variety of reasons. Since Microsoft is not responsible for backing up your data, retaining SharePoint data is the responsibility of IT administrators so that business data is available at all times.  
This article explores all the different ways in which IT admins can retain Microsoft SharePoint data.  
What are the apps that use SharePoint as their data storage location?
OneDrive and SharePoint have the same design and functions. OneDrive is meant for personal storage while SharePoint is used for collaborating with others and for publishing files for everyone in the organization to see. Both SharePoint and OneDrive support the same features like - editing Microsoft Word, Excel, PowerPoint, and OneNote, file sizes up to 100GB, co-authoring, version history, file sharing (both internal and external), mobile device access, and syncing files to your computers and phones. OneDrive can be considered as a SharePoint document library that is just for you. Since OneDrive is contained within SharePoint, the retention policies for both the applications are the same. Hence all the methods mentioned in this article are applicable to OneDrive as well.
Microsoft 365 cloud applications like Excel, Word, PowerPoint, OneNote, Sway, Planner, Visio, Whiteboards, and Yammer use SharePoint as their data storage location. Data from third-party applications that are integrated with SharePoint are also stored in SharePoint. In addition, Teams data such as Sites, Wiki, files created on Teams, and meeting recordings are stored in SharePoint Online.
Apps that use SharePoint as their data storage location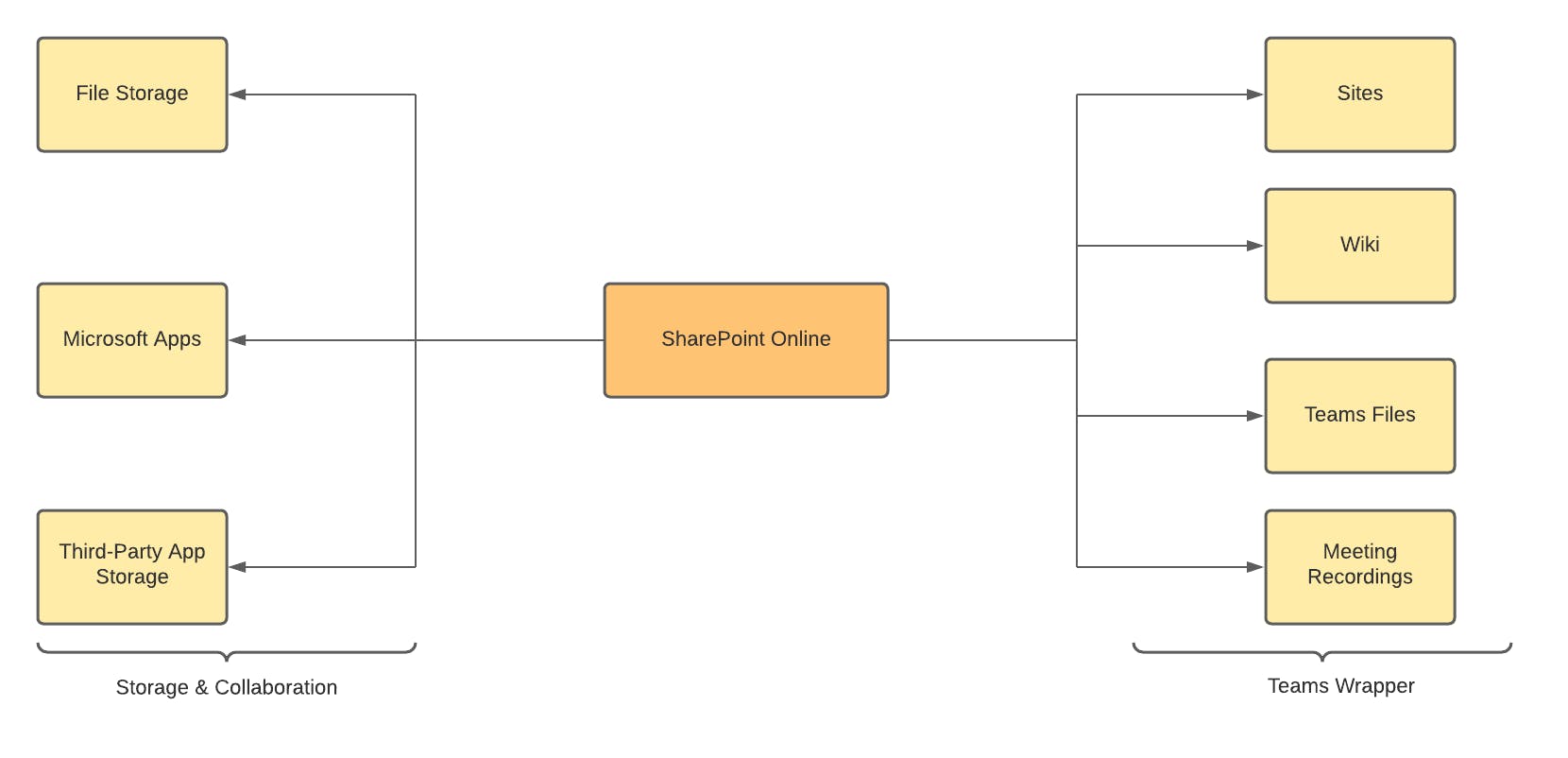 What happens when SharePoint data is deleted?
Here is a diagram that shows the default data retention steps in SharePoint and how data can be restored by users and administrators within specific timeframes.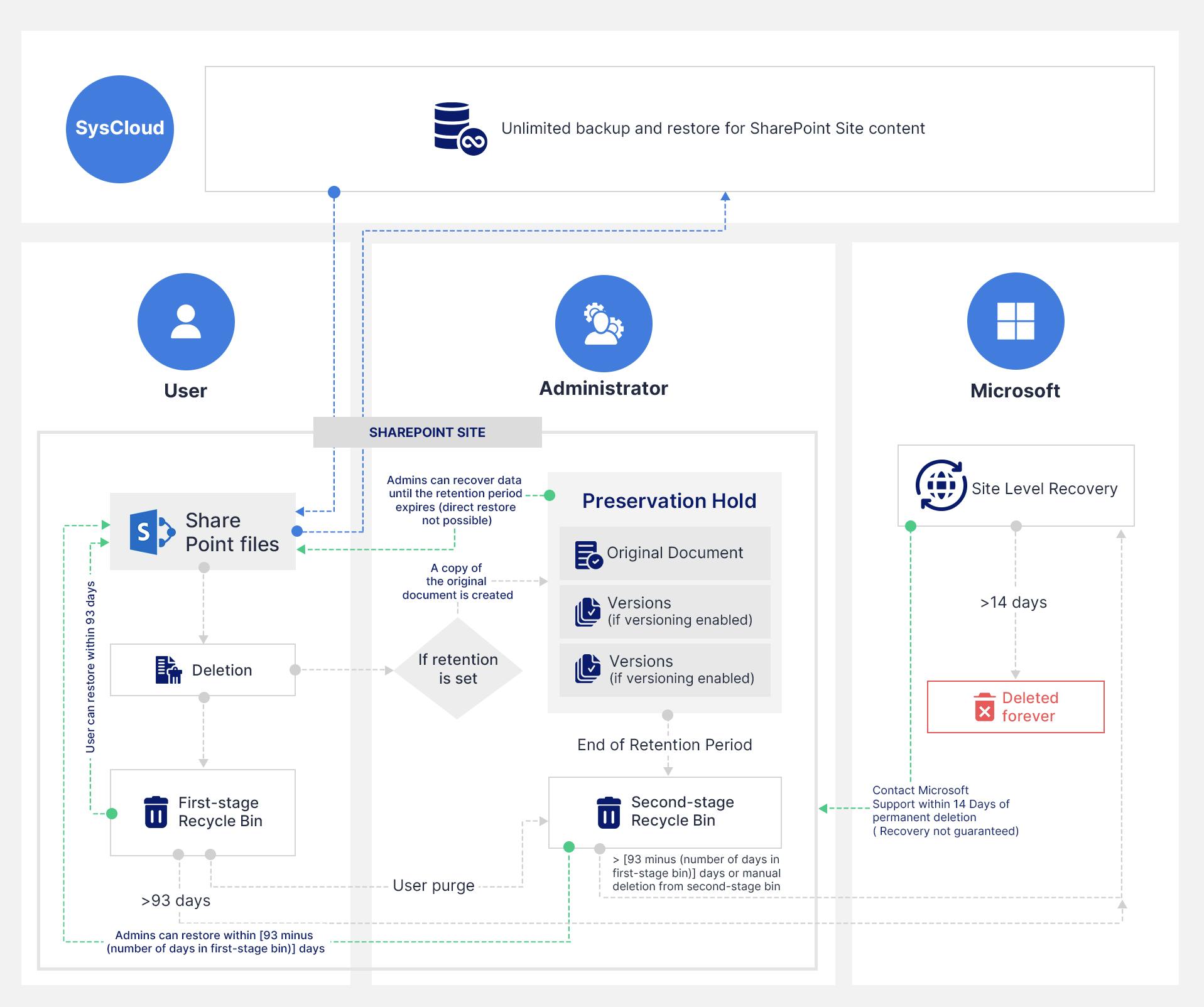 1. Standard Microsoft 365 retention in SharePoint
When an item is deleted from a SharePoint Online site, it is sent to that site's Recycle Bin (or first-stage Recycle Bin).Itstays in the site Recycle Bin for 93 days, unless it's deleted from there. In that case, it goes to the site collection Recycle Bin (or second-stage Recycle Bin), where it stays for the remainder of the 93 days. The item is permanently deleted if it is either deleted from the site collection Recycle Bin or if it exceeds the retention period (ie, 93 days).
Note: The retention period begins when something is first deleted and does not change if the deleted item moves from the first-stage to second-stage Recycle Bins.
Even after deleting data from the site collection Recycle Bin (second-stage Recycle Bin), SharePoint Online retains backups of all content for an additional 14 days. The administrator can contact the Microsoft Support Team to restore the deleted data within this time period. 
2. Retention policy and retention labels
Files stored in SharePoint and OneDrive can be retained if a retention policy or retention label is applied to them. They can be used together or separately according to data type and your business requirements. Retention policy is used to assign the same retention setting for content at a site or mailbox level. Retention label is used to assign retention settings at an item level (to a particular document, file, or an email).  
 To know when to use retention policies and label and how to create them, click here.
2.1 What are the principles of retention?
It is possible to apply more than one retention policy to the same content. Each retention policy will have one retain action and a delete action. When a content is subjected to multiple retention settings, it is important to know what takes precedence over the other.  
Here are the 4 principles of retention: 
Retention always takes precedence over permanent deletion 

Longest retention period wins

Delete action from a retention label always takes precedence over the delete action from a retention policy. 

Shortest deletion period wins 
2.2 Preservation lock for retention labels and policies
Preservation lock is used to restrict anyone-including the global administrator - from either deleting, or disabling a retention policy or retention label. Preservation lock is used due to regulatory requirements and can help safeguard against rogue administrators.  
When a retention policy is locked: 
No one can disable or delete it 

Locations can be added but not removed 

You can extend the retention period but not decrease it 
When a retention label is locked: 
No one can disable or delete it 

Locations can be added but not removed 

Labels can be added but not removed 
In summary, a locked policy can be increased or extended, but it can't be reduced or turned off. 
If you want to know how to lock a retention policy, click here.  
Electronic discovery or eDiscovery tools in Microsoft 365 are used to search and export content in Exchange Online, OneDrive for Business, SharePoint Online, Microsoft Teams, Microsoft 365 Groups, and Yammer. You can create eDiscovery hold to retain data on Microsoft 365 apps for litigation purposes.  
With versioning, SharePoint List items and Library documents can be restored to their previous state or to how they were before being edited by a user. Versioning creates a historical record of all changes with date, time, and user details of who made the changes. The end-user with relevant permissions can view, delete, or restore a version of the document if they want to.  
4.1 How to enable versioning in SharePoint?
Step 1: Navigate to the library you want to enable versioning 

Step 2: Click on the Settings icon and select 'Library settings'
Step 3: Click on 'Versioning settings'
Step 4: Configure the settings and click on 'OK' 
4.2 How retention works with document versions
If a document with versions is subjected to retention settings to retain content, the different versions of the document get copied to the Preservation Hold library as a separate item. When the retention settings are configured to delete the item at the end of the retention period: 
The original document and its versions will be deleted at the same time if the retention period is based on when the original document was created.  

The original document and its versions will be deleted independently of each other if the retention period is based on when the content was last modified.  
If the retention action is to delete the document, all versions not in the Preservation Hold library are deleted at the same time according to the current version. 
5. Third-party backup solutions
While the native settings offered by Microsoft are helpful in retaining your data, they do not serve as a backup solution. Microsoft is not responsible for backing up your data and they recommend using third-party apps for backup. Here is what Microsoft says in their  Services Agreement (Section 6.b).  
"WE STRIVE TO KEEP THE SERVICES UP AND RUNNING; HOWEVER, ALL ONLINE SERVICES SUFFER OCCASIONAL DISRUPTIONS AND OUTAGES, AND MICROSOFT IS NOT LIABLE FOR ANY DISRUPTION OR LOSS YOU MAY SUFFER AS A RESULT. IN THE EVENT OF AN OUTAGE, YOU MAY NOT BE ABLE TO RETRIEVE YOUR CONTENT OR DATA THAT YOU'VE STORED. WE RECOMMEND THAT YOU REGULARLY BACKUP YOUR CONTENT AND DATA THAT YOU STORE ON THE SERVICES OR STORE USING THIRD-PARTY APPS AND SERVICES." 
5.1 Why should you have a third-party backup solution?
Limitations of Native Retention Settings: The native retention settings offered by Microsoft do not serve as an effective data backup and recovery option. Having a third-party backup solution will shield your data during data loss incidents.  

Easy Restoration: Third party tools such as SysCloud, help you easily restore specific or all files in just a few clicks.  

Save License Costs: Third-party solutions allow you to retain safe copies of organizational data even after employee exits and account deletions, thus saving license costs.  

Fast Backups: Take faster backup even for large teams.  

Protection Against Ransomware And Phishing: Third-party applications like SysCloud secures your data during ransomware and phishing attacks by automatically identifying a safe backup snapshot to restore the affected file(s). 
5.2 How SysCloud offers advanced data retention and recovery options for SharePoint Online
SysCloud's advanced data retention and recovery options lets you:
Restore specific or all sites back to the user account in just a few clicks without the trouble of importing and exporting 

Directly restore data back to its previous location with all sharing permissions and folder structure still intact 

Restore data to another user's account 

Permit employees to restore their own files to facilitate faster recovery 

Receive regular reports on the status of your backup, restore, and usage reports. 

Define retention rules for an unlimited period of time 

Locate and recover SharePoint data within the backup archives using advanced search options 

Enable the self-service options for the end-users to restore or export their lost data 
5.3 SysCloud vs. native SharePoint Online retention
Features
SysCloud
Native Features

Unlimited Public sites restore

Restore any file with folder structure

Restore past version automatically